Find a Dog Groomer – Choosing a Reputable Dog Groomer May Be More Important Than You Think!
How To Choose A Dog Groomer
Trust the professional……or not! You might not think twice about bringing your dog to the nearest, or cheapest dog groomer, but considering the sharp tools needed to work on a not-so-happy-to-be-there, squirmy pooch, you might want to think twice! Did you know that dog groomers aren't required by law to have any previous training, or certification? Of course, the grooming salon itself should be licensed to run its business, but the groomers may be learning the skills on the job.
There have been some unfortunate accidents within the dog grooming industry, from minor cuts and scratches, to more severe cuts, overheating from drying, and even death, so safety is a huge concern. Cage drying dogs by blowing in hot air can dehydrate a dog and do some real harm, so beware of how your dog is being dried, and ask questions if it doesn't look right. Also, be sure they never leave their dogs unattended on the table.
Make sure the dog groomer you choose has experience! Also, make sure sure she truly seems to love animals and will be gentle and kind to your pet. Most dogs get very anxious when going to the groomer so finding someone who can alleviate the anxiety, and not elevate it is a must.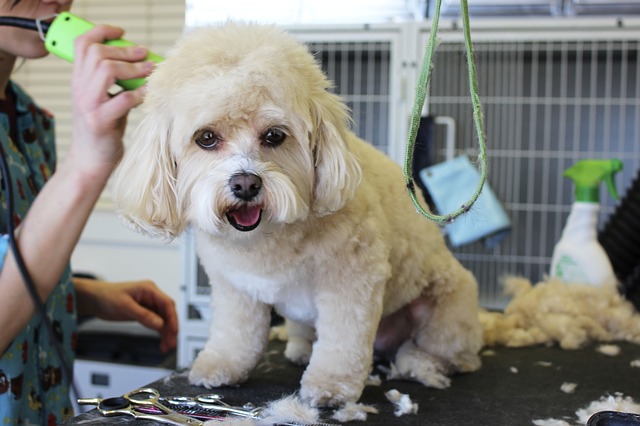 There are several professional grooming organizations that a groomer can belong to, and you may want to make sure your groomer belongs to one of them. Although it's not a requirement, it does show that they are interested in keeping up with their occupation as far as safety, health standards, and styling trends.
A grooming salon can look dirty with all that pet hair flying around, however, making sure that the crates are clean, and the other areas are swept up and tidy can clue you in as to how they run their business. It should not smell like a zoo!
Know where they keep your dog prior to the grooming session as well as afterwards. They should be able to see them at all times, and not tuck them out of sight. In addition, cats and dogs should be caged in separate areas.
Once you find a great groomer, stick with her! A dog groomer that is familiar with your dog will be able to identify health issues such as ear infections, or any suspicious lumps or bumps that were not there before. In addition, your dog won't be quite as anxious if he is familiar with the person and procedure.
Of course word of mouth is a great start, so ask friends, relatives, or your veterinarian for recommendations. And be sure to check online reviews!