Jack-A-Poo(also known as Jackadoodle, Jack-A-Doodle, Poo-Jack, Poojack)
Mix: ½ Jack Russell Terrier & ½ Poodle
Size: Approximately 13 – 25 pounds, and 10 – 15 inches tall
Coat: Coat can vary between smooth or rough in texture, and may be straight or curly.  May be multi colored with varying shades of white, tan, brown, and black
*Many people with allergies prefer Poodle mixes as their fur is more hypoallergenic than most dogs (a characteristic inherited from the Poodle)
Jack-A-Poo (also known as Jackadoodle, Jack-A-Doodle, Poo-Jack, Poojack)
A Jack-A-Poo is a mix between a Jack Russell Terrier and, most commonly, the toy or miniature Poodle.  They are approximately 13 – 25 pounds, and stand anywhere from 10 – 15 inches tall.  Their coats can be a solid color, or shades of several different colors, but usually range in shades of white, tan, brown and black.  They also range in texture as they can take on the course texture of the Jack-A-Poo, or the softer coat of the Poodle, and be anywhere from straight to curly.  They will likely have quite an abundance of energy as the Jack Russell Terrier can tend to be quite active.  However, each Jack-A-Poo is different in energy level and temperament as they may inherit traits from either of their parents.  Since the Jack Russell Terrier and the Poodle differ greatly in personality traits so may a Jack-A-Poos, however, examining the characteristics of both the Jack Russell Terrier and Poodle can give you an estimation of traits that a Jack-A-Poo may possess.
When considering the nature of the Jack-A-Poo, you must consider the characteristics of both the Jack Russell Terrier and the Poodle separately in order to determine the characteristics the Jack-A-Poo may exhibit.
Jack Russell Terrier
The Jack Russell Terrier is considered an extremely intelligent dog.  They are also highly athletic and are quite the bundles of energy.  They are happiest when they can be active and are best suited for someone who will be dedicated to putting the time in to stimulate and exercise them daily.  Despite their small size their energy level is massive and they do not tire easily seeming to want to keep going long after you have called it quits for the day.  For this reason they are not recommended for city dwellers, or to those who do not have the time to exercise them properly as they will bore easily and can develop destructive behaviors in attempt to release their energy.  They are excellent for agility and many other types of dog sports.  They tend to have a stubborn streak which can make them tricky to train so obedience classes are recommended.
Poodle
The Poodle comes in three different sizes, toy (10" and under, 6-9 1bs.), miniature (10-15", 15-17 1bs.), and standard (over 15", 45-70 1bs.).  The Poodle has been cited as being the 2nd most intelligent breed of dog.  Their exceptional intelligence, paired with the fact that they are generally very eager to please, empowers them to excel in obedience training.  They learn quickly and will delight in showing off their new tricks.  Poodles are generally very easy to housebreak.  They are loyal and devoted companions, extremely people-oriented, and crave lots of love and attention.  They are typically calm, good natured, with a sweet temperament, and the ability to bond with all members of their human family.  The standard poodle, in particular, does extremely well in families with young children, while the toy and miniatures fair better with older children.  Poodles do not do well in households where they will be left alone for long periods of time, left outside, or bound to one room of the house.  Poodles have an extremely low-shedding, dense coat which is either curly or corded and should be groomed every 6 – 8 weeks to prevent mats and tangles.  If you should so decide, their coat can also be kept short for low-maintenance.  Poodles come in a variety of colors such as silver, cream, gray, blue, black, white, apricot, red, caf-au-lait, brown, and parti-colored.  The Poodle is oftentimes referred to as the hypo-allergenic dog.  But, while there truly is no such thing as a completely hypo-allergenic dog, they are unquestionably more compatible with allergic persons than other breeds.   Being classified as highly energetic, the poodle, like most dogs, will appreciate daily exercise, such as a walk, play session, or a run at the dog park.
Click here to see complete listing of all Poodle mixes.
SUBMIT A PHOTO OF YOUR JACK-A-POO DOG! Simply use the comments and image uploader section, below.
Photo Submitted by: Jeane 6/2/13
Our precious dog named Justice, found us a few months ago. It was evident that he had been neglected and abused and left to fend for himself until one day he showed up at our door. I took him to the groomers and then the vet to get him checked out. He is a Jack-a- Poo. What a personality! He is high energy, smart, and very affectionate. Loves to sit on my lap and loves to play with his toys. Gets along well with our Shih Tzu.






Photo Submitted by: Robert 7/27/13
This is Tia my twelve week old Jackadoodle Puppy. She picked me, followed me everywhere. She is fun loving and energetic, and great with our grandchildren.











Photo Submitted by: Bill 8/19/13
Love my Jackapoo. She is a character.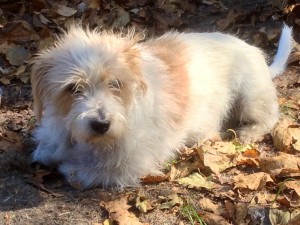 Photo Submitted by: Mike 12/16/13
Jack Russell dad. Mom peek a poo.
Meet Jack Ranger. Highly unique. Does every thing the arttical las say a jack a poo should do.
Temperament he can be pouty. He will interact with any animal just leave.
Doesn't forget anything.






Photo Submitted by: Louise 6/3/14
This is our 5 month old puppy Frankie sunning himself with my 3 year old he is very energetic and loves to run but also likes a cuddle and peaceful time too










Photo Submitted by: Vickie 9/14/14
This is Timmy, just turned 1 – he chose us when we went to the Las Vegas ASPCA. He was 8 months old and terrified. He had been found on the street with a fractured back leg.
He is wonderful! The light of my mothers & my eyes. I waited years to get a dog & it just happened to be the right time. We look forward to a long life together.






Photo Submitted by: Angie 9/19/14
This is my baby Rosie she is one year old and so cute . We got her when she was 10 months. She soon fitted into our family. Rosie loves to play, loves her walkies she always goes outside to toilet she goes can go from 10pm to 10 am before she needs it. She is a fussy eater she loves Tuna and dried dog food.








Photo Submitted by: Shika 11/11/14
Our Jack-A-Poo called Jackpot, he's truly a little gem, fast learner, stubborn at times but very intelligent and loves his play time, he's also becoming quite the performer lol he's our little Jackpot! Xxx -Shika B and Dhav G












Photo Submitted by: Lesley 3/14/15
Toby is 3 years of age and so well behaved. He loves everyone and everyone seems to love him. We got him when he was 5 months old. He is a big part of our family. He adapts well to new situations but doesn't like being left alone. He loves his walks on a daily basis and is great with other dogs and cats. Toby also loves children and he is very gentle with them. Great with chickens too.







Photo Submitted by: Dawn 4/25/15
This is our lil pup lola she is 15 weeks….very active little girl who loves constant attention















Photo Submitted by: Brenda 5/16/15
My jackapoo Rico
He is very playful and
Loves to play tug a war and
Fetch











Photo Submitted by: Wanda 5/23/15
Our 12 months old jack a poo is the love of our life. He is soooo cute. He try to dominate and most of the time gets to do just that. we do not let him sleep with us in bed but we do let him sit with us on the couch and he make very sure that he is in the middle of us both. He is a jumper and really hates to be alone. He HAS to be in the same room as one of us. He is adorable.







Photo Submitted by: Nicole 6/4/15
6 month old jackapoo with a big attitude , loves walks, easily potty trained . He learned how to sit by the age of 7 weeks old & learned how to shake both hands at the age of 12 weeks














Photo Submitted by: Kristen 7/10/15
This is Sassy. I believe she is a jack-a-poo! We believe she is a year old. We rescued her just six weeks ago. She is spunky, friendly, smart as a whip and LOVES to give kisses! If there were an Olympic medal for kisses, she would get the gold! What she lacks in size she makes up for in personality! She struts around like she is walking on the runway. It is hysterical! She loves to chew, especially on plastic bottles, but she can get the caps off, so we have to put all of our returnables out of reach (don't want her to choke!). The other day she grabbed an empty milk container by the handle and sauntered down the hallway like it was completely normal! It was bigger than her, but she didn't care! She is super loving, loyal and loves everyone! We found a gem in this little lady <3








Photo Submitted by: Jackie 7/15/15
My Jack-a-Poo puppy Marlii Another bright little pup, learning very quickly, now aged 4 and half months. Loves the great outdoors, just as well we live in the countryside 🙂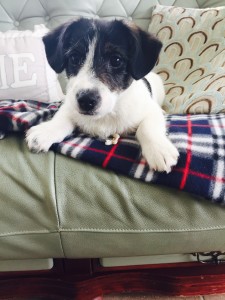 Photo Submitted by: Alex 7/27/15
Buster 🐶













Photo Submitted by: Louise 7/28/15
Our Jack-a-poo at 2 years old Lola, doing her meerkat impression!















Photo Submitted by: Loretta 8/5/15
Jack a poo – Charlie is my daughter Lori's newest family member.











Photo Submitted by: Jennie 8/27/15
Our beloved Jackapoo, Oskar















Photo Submitted by: Ashley 8/27/15
My little ty














Photo Submitted by: Wanda wrenfro 10/6/15
This is our jack-a-poo, Latte is almost 10 weeks old. He came into our family from my mom. We love him and he is such a blessing.. His mom is jack Russell terrier and his dad is poodle.














Photo Submitted by: Teddy 10/15/15
Jackapoo














Photo Submitted by: KT 10/22/15
My jack a poo Lucy













Photo Submitted by: Levi Ackerman 11/1/15
My sassy lil' Jack-A-Poo named Honey












Photo Submitted by: Sahar 11/5/15
My little 2 year old Jack-a-poo, Teddy Bear














Photo Submitted by: Kevin 11/20/15
Our Jackapoo – Paddy, now just over 4 months. Hardly any curls but we love him just the same!










Photo Submitted by: Vola Saintsing 1/6/16
This is Dumplyn my 8 year old Jackapoo










Photo Submitted by: Aaron.E 1/7/16
This is Tozey, he's a Jackapoo who found me. Not sure if I saved him or he saved me. He was mistreated by the evidence of an injured foot and broken tail. He's so full of energy and love. Our Pit Bull has adopted her as her own puppy.









Photo Submitted by: LILLIAN STONEHOUSE 1/11/16
TALLULAH THE JACK A POO














Photo Submitted by: Josephine Higgins 1/20/16
Rosie is a 7 year old toy/mini poodle x jack russell from NZ. She loves tennis balls and swimming.












Photo Submitted by: Marie 1/24/16
Not sure if our Sofie is a Jackapoo or not? A friend was reading up on poodle mixes and wondered if this is what she is. She is the most passive, lovey, sweet natured dog I have ever met in my life! We rescued her from the HS when she was 18 months and had already had a litter of pupies. They weren't sure what she is either and just called her a "terrier mixx". We would love to find out.











Photo Submitted by: Sarah 2/19/16
My jackapoo Billy, now 5, fun loving and the most affectionate dog I've ever had! Here I have have just cut his coat but he is grey with a white flash and white paw. My husband has taught him to growl with him which is hilarious. He begs like a meercat, so funny. He also has the most amazing jump high up in the air.










Photo Submitted by: Tina Mischke
Dover is a rescue. According to DNA, his mother is 100% miniature poodle and his father is a Jack Russell terrier mix. We love him very much.










Photo Submitted by: Donna 4/3/16
This is our beloved rescue Jacapoo Scruffy Anne













Photo Submitted by: Taft 4/12/16
Ellie Von waffletits the jackapoo















Photo Submitted by: Angie 4/21/16
Dallas is a peek a poo Jack Russle mix He thinks he's Gozilla and quite the trickster when he wants something flashing those puppy eyes at 8 1/2 weeks














Photo Submitted by: Julie Hurren 4/24/16
This is Bobby. He jumped on my lap when we went to see him and his siblings he was 4 months old. His mum is a jack Russell and dad is a miniature poodle. He loves playing with all his toys and enjoys playing fetch across the fields best.













Photo Submitted by: Elly Price 5/8/16
This is Myla! She is a Jackapoo and is very energetic! She looks more poodle but has the personality of a Jack Russell. She gets very jealous when we stroke other dogs but is a cute puffball.












Photo Submitted by: Rey and Bev 5/9/16
This is our jack a poo puppy ziggy stardust he is 3 months old and one fun ball of energy















Photo Submitted by: Liz McFadden 6/16/16
This Is Honey. We adopted her, but no one knew what she was because she was a rescue. I have looked at many pictures and I think she is a Jackapoo. She is a wonderful 1 year old doggie. Very laid back.














Photo Submitted by: Sissy 6/17/16
This is Jack our 5 mo. old jackapoo. He loves walks/runs in the park, car rides, mcdonalds french fries, hugs and kisses, tug of war, chewing empty plastic bottles, (and shoes) (especially my new sandals) and his toys. His mom is a jack russel and his dad is a toy poodle. He is one spolied little boy.








Photo Submitted by: Carol Rorkington 7/7/16
My adorable Jack a poo TEDDY love him to bits , he's a very cheeky n loves to chew socks ha😂













Photo Submitted by: Carol Torkington 7/7/16
Jackapoo 13 months old very friendly Lovely natured dog his name is TEDDY he loves to chew my socks n shoes !!! Good job I love him ! We have a a 8 yrs old jack russle Sky also a terrier cross Lucy 14 yr old all get on brilliant with teddy we are very blessed














Photo Submitted by: Karli 7/20/16
Tucker is my 11 week old Jackapoo. He is already potty trained, and knows several tricks! So far, he is not very energetic and would rather sleep and cuddle or sun bathe. He is the sweetest dog in the world!












Photo Submitted by: Lucy 7/28/16
Our three tiny jackapoos paddy lucky clover all born on 17 March 2016















Photo Submitted by: Julie 7/29/16
Paddy 5 month jackapoo















Photo Submitted by: Chris 7/29/16
This is Patch, he is a jackapoo – very lively and intelligent.

nbsp;












Photo Submitted by: Kim Graham 8/25/16
My jackadoodle marlo when he was 10 weeks old. I love this dog to bits. He's my world 💙


nbsp;












Photo Submitted by: Penny 9/15/16
Teddy Bear is from the pound…..Jack Russell and poodle mix. Loves to run in big circles and jump over things as he runs! So smart and obeys every word I say. He LOVES to go to the doggie park and run the fence chasing big dogs! He can be right in the middle of playing and I say "Come on Ted…we have to go home" and by golly he comes to me and calmly walks out to the truck and jumps in! He comes to work with me on weekends where I do a karaoke show at a resort and sings on command! All the guests cheer and clap and he enjoys all the love and petting he receives from everyone. All they have to say is "jump" and he is in their lap! The people really get a kick out of him. I love that dog more than anything in the world. He is my BFF







Photo Submitted by: Denice Lawson
This is Curly Sue our 6-1/2 month old Jack-A-Poo. She is too sweet!!














Photo Submitted by: Dianne 11/4/16
This is my baby Jackadoodle, she is 12 weeks and called Rosie, I adore her.
















Photo Submitted by: Deb Erickson 11/7/16
My little Jackapoo, Charlie 14 weeks old. Very sweet and loving with a mix of mischief! We love, love him to pieces!














Photo Submitted by: Kimberly 11/11/16
This is Lulu our 12 week old. She is half cockapoo and half jack russell. There were three in her litter and all the pups looked completely different. One black and white with super curly poodle fur, one was tri-colored with short fur, and Lulu is light chocolate color with coarse messy fur and a tail that curls up and makes a little circle on her backside.
She is a baby doll! Super cuddly and easy to get attached to. She has an attitude and thinks she's a Rottweiler! Very intelligent, sometimes I think she knows what I'm saying. She does have the hunter instincts of a jack russell. Wants to go after and catch smaller animals. Goes crazy if you move your hand under a blanket. She's also very sweet to my 5 yr little girl. She is just a little bundle of joy!
Her poodle-like brother is more calm, lazy, and laid back than my crazy little Lulu.







Photo Submitted by: Eddie 11/13/16
This is 'RUPERT' He is 5 months old.
His mum is a Parsons Jack Russell, white and Tan and his dad is a tan miniature poodle.
He runs around all day loves cuddle and is a real pest ! But he makes us laugh 😂.












Photo Submitted by: Mick 11/13/16
This is our tilly 9 weeks old what a little character loving and very playful she is loved to bits mum was a Jack Russell dad a apricot toy poodle













Photo Submitted by: Pam 11/23/16
We just got the DNA results on our beloved Lucy and found out she is a Jackapoo. She has been the best dog. So intelligent , obedient and loving. We don't know how old she is but she has been ours for ten years. She has lymphoma sadly and we can't bear the thought of losing her.












Photo Submitted by: Joanna 12/8/16
Susy the Jack-a-poo!
Susy is a 6 year old baby who is very loving and caring of everyone and especially her little sister who is a Maltipoo!













Photo Submitted by: Dave Charlton 1/2/17
This is Black Jack a 16 month old Jack a Poo. I rehoused him at 5 months old and he is a wonderful little chap full of energy and loves to play with dogs of all sizes. He play bites their tails and ears until they chase him. He is very clever and can be a bit stubborn at times. He knows when I am going out before I do and will try and stay outside to prevent me locking him in the house. He is great with people and children of all ages. He loves to say hello to everyone we meet and everybody thinks he is a lovely little chap. So glad I took him on.













Photo Submitted by: Pauline 1/2/17
Coco is a 1 year jackapoo, was such a loving, smart and playful pup! Sadly, because of their nature to roam, she escaped from the yard and was tragically hit last week.













Photo Submitted by: Ali 1/8/17
Ronni is a jackapoo mum was a black and white jack father apricot poo.
Our little lad is such a pleasure,loyal comes everywhere with me.Everyone loves ronni
Loves his run in the woods,loves the beach and the sea.
Always happy,I love him dearly..he's just a year old ,














Photo Submitted by: J. Ragsdale 3/20/17
Is Sparky a Jack-a-poo? We think so. He's about a year old, lively and fun; loves to run and jump, and loves other dogs.














Photo Submitted by: Aimee 4/20/17
This is our lovely Jack-a-Poo called Rosie who is a blessing from God. She has more Toy Poodle in her than Jack Russell. She is playful, loveable, a good guard dog, she loves chicken and squeaky toys! She was the only girl in her litter of three. We are so blessed to have her in our lives.













Photo Submitted by: Denice Lawson 5/18/17
This is Curly Sue, a Jack-a-Poo at 15 months. She is a real sweetheart. Just got her summer haircut.














Photo Submitted by: Susan Gerlitz 6/13/17
This is our little rescue from East LA – now 5, adopted at one yr. – Her sister and her were transported together up to Vancouver. We believe she is a poo-jack – so smart and easy to train – can do many tricks and favors – totally spoilt, loves her daily walks and runs and has carrot cuttings for a treat and loves them. So spoilt but can't help it as she shares so much fun and time with us. We love her so much. Thank you for letting us share our little one.








Photo Submitted by: Kaye 7/14/17
Alfie is our 12 week old Jackapoo. He loves all people, but is really wonderful with our young kids. They chase him around and pick him up constantly, and he is so tolerant and patient.
Loves to run and play, but equally loves to snuggle on the couch. He is also quite good with our 2 cats.
He's learning quickly and is a real joy. Perfect choice for our family!










Photo Submitted by: Kami 11/1/17
This is Jackson my 3 month old Jackapoo! I rescued him when he was only 4 weeks old, not knowing if he would survive or not. I bottle fed him until he was big enough to eat to on his own. Now he is a healthy and happy puppy! He is my baby 💙












Photo Submitted by: Lisa 11/19/17
I adopted our Jack-a-Poo, Fluffy, from a shelter 10 months ago when she was 8 years old. She NEVER barks except in her sleep, which is hilarious. But even though she's not the best guard dog – – – she's the best, sweetest, most lovable little princess in the world. I love her pointy ears!









IMPORTANT: You MUST state the type of Poodle mix in the Post Content section below! (For Example, Bich-Poo, Cavapoo, Maltipoo, etc.) Thank you for sharing! (Please allow up to 24 hours for your photo to appear.)