Bernedoodle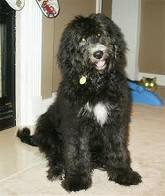 Mix: ½ Bernese Mountain Dog & ½ Poodle
Size: Dependent upon size of Poodle used to breed as follows:
Toy: 10 – 24 pounds, 10 – 14 inches
Mini: 25 – 49 pounds, 15 – 20 inches
Standard: 50 pounds or greater, 21 inches and up
Coat: Can be straight, way, or curly, with the majority being wavy. Come in a variety of colors such as solid black, black and white, black and brown, or tri colored with black, white and brown. Low to non-shedding.
*Many people with allergies prefer a Poodle mix dog as their fur is more hypoallergenic than most dogs (a characteristic inherited from the Poodle)
Bernedoodle
The Bernedoodle is a fun, playful, goofy, and extremely sociable dog. They are a good fit for just about anybody looking for a beautiful, well-balanced, and good natured pet. Most have a laid-back temperament, a moderate energy level, and are known as being very intelligent. They are not considered to be high strung or have an overabundance of energy. They love to play, swim, run, and fetch, but are also a great companion when it comes time to rest easy. They are great with children and seem to understand that they need to be gentle around them. They are low to non-shedding (due to the poodle) and can have a coat that is straight, wavy, or curly, however, most are wavy. They come in different colors ranging from solid black, black and white, black and brown, or tri colored with black, white and brown. Bernedoodles can come in three different sizes dependent upon which size poodle is used in the breeding process. The smallest is the toy (toy poodle crossed with a Bernese), which is 10 – 24 pounds, 10 – 14" in height, and an average life expectancy of around 14 – 18 years. Next, is the mini (mini poodle crossed with a Bernese), which is 25 – 49 pounds, 15 – 20" in height, and an average life expectancy of around 13 – 17 years. Lastly, is the standard (standard poodle crossed with a Bernese), which is 50 pounds or greater, around 21" and up, and an average life expectancy of around 12 – 15 years.
When considering the nature of the Bernedoodle, you must consider the characteristics of both the Bernese Mountain Dog and the Poodle separately in order to determine the characteristics the Bernedoodle may exhibit.
Bernese Mountain Dog
The Bernese Mountain Dog with their large frame, and stunning black, white, and brown coat, are a beautiful sight to behold. They have a sweet disposition and are an extremely loyal breed that is devoted to pleasing their owners. They are also very gentle and friendly in nature and are wonderful with all types of people and animals. Although they have an independent side to them, at the same time they demand a great deal of attention and prefer to be in the center of family activities. They are very calm, and not overly energetic. They enjoy walks with their human family, and generally will stay close by and are not prone to running off. Although they are outside dogs at heart, they are also known to be very lazy, and willing to exert large amounts of energy only for short periods of time before resting. They can acquire many health problems and have a short life span in comparison to most other breeds of only 6 – 7 years.
Poodle
The Poodle comes in three different sizes, toy (10" and under, 6-9 1bs.), miniature (10-15", 15-17 1bs.), and standard (over 15", 45-70 1bs.). The Poodle has been cited as being the 2nd most intelligent breed of dog. Their exceptional intelligence, paired with the fact that they are generally very eager to please, empowers them to excel in obedience training. They learn quickly and will delight in showing off their new tricks. Poodles are generally very easy to housebreak. They are loyal and devoted companions, extremely people-oriented, and crave lots of love and attention. They are typically calm, good natured, with a sweet temperament, and the ability to bond with all members of their human family. The standard poodle, in particular, does extremely well in families with young children, while the toy and miniatures fair better with older children. Poodles do not do well in households where they will be left alone for long periods of time, left outside, or bound to one room of the house. Poodles have an extremely low-shedding, dense coat which is either curly or corded and should be groomed every 6 – 8 weeks to prevent mats and tangles. If you should so decide, their coat can also be kept short for low-maintenance. Poodles come in a variety of colors such as silver, cream, gray, blue, black, white, apricot, red, caf-au-lait, brown, and parti-colored. The Poodle is oftentimes referred to as the hypo-allergenic dog. But, while there truly is no such thing as a completely hypo-allergenic dog, they are unquestionably more compatible with allergic persons than other breeds. Being classified as highly energetic, the poodle, like most dogs, will appreciate daily exercise, such as a walk, play session, or a run at the dog park.
Click here to see complete listing of all Poodle mixes.
SUBMIT A PHOTO OF YOUR BERNEDOODLE DOG! Simply use the comments and image uploader section, below.
Photo of Oreo submitted by: Jocelyn 9/8/12
hello
we have a bernedoodle born july the 27 2011
her father is medium poodle
her mother is bernese mountain
height 18 inches at the shoulder
weight 23 pounds
Her name is OREO and
She is very sociable,playful
she loves to run with other companion,
she loves to jump in water,
she loves to play with a ball.
best regards



Photo Submitted by: jocelyn 11/29/15
The Bernedoodle Oreo 4 years 26 pounds picture take in july 2015

























Comments and Image Uploader – Share a photo of your cute poodle mix with the world!
IMPORTANT: You MUST state the type of Poodle mix in the Post Content section below! (For Example, Bich-Poo, Cavapoo, Maltipoo, etc.) Thank you for sharing! (Please allow up to 24 hours for your photo to appear.)