Pomapoo (also known as Pooranian, Pom-A-Poo, Pom A Poo, Poopom)
Mix: ½ Pomeranian & ½ Poodle
Size: 3 – 14 pounds, and approx. 8 – 12 inches tall
Coat: Coat is short to medium in length, soft, and can range from straight, wavy, or curly.  Coat colors can range from brown, black, or white.




*Many people with allergies prefer Poodle mixes as their fur is more hypoallergenic than most dogs (a characteristic inherited from the Poodle)
(This post contains affiliate links, which cost you nothing, but do help to support this site's maintenance and fees. Read my full disclosure policy)
Pomapoo (also known as Pooranian, Pom-A-Poo, Pom A Poo, Poopom)
A Pomapoo (also known as Pooranian, Pom-A-Poo, Pom A Poo, Poopom) is a mix between a Pomeranian and, most often, the toy or miniature sized Poodle.  They are quite tiny weighing in at only 3 – 14 pounds, and standing 8 – 12 inches tall.  The Pomapoo's appearance can differ greatly amongst each other as some may take on the long, narrow muzzle of the Poodle, and others the wedge-shaped head of the Pomeranian.  Also, when it comes to tails, they may have the straight tail of the Poodle, or the high-set tail of the Pomeranian.  The Pomapoo's coat may range from straight to wavy, and may be short to medium in length.  They also come in a variety of colors such as brown (most common), black, or white.  Pomapoos are very loving with their family members and crave human attention, and affection.  Separation anxiety has been known to occur in these dogs as they become very attached to their owners.  They should be taught from the start how to spend time alone, and should not be overly pampered, or spoiled.  They tend to view outsiders as friends and for this reason are not considered good watch dogs.  Perfect for the apartment dweller, they do not need a lot of space, and require only a moderate amount of exercise.  A daily walk, play session, or off-leash run in a fenced area will keep the Pomapoo healthy and happy.  Pomapoos also make a great family pet as most are good with children as well as other household pets.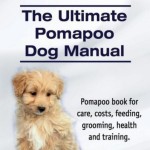 This book can provide you with additional information regarding the Pomapoo. Click Here if you would like to purchase.






When considering the nature of the Pomapoo you must consider the characteristics of both the Pomeranian and the Poodle separately in order to determine the characteristics the Pomapoo may exhibit.
Pomeranian
The Pomeranian is very lively and independent in nature with a sweet and gentle temperament.  They are very affectionate, loyal, and devoted to their owners.  They quickly develop close bonds with their owner, but if not taught to spend time alone are prone to developing separation anxiety.  They are very intelligent and make excellent companion dogs.  They are very alert and aware of noises and can tend to become incessant barkers if not trained when it is okay to bark and when it is not.  However, their barking can also make them very good watch dogs, alerting their owners of the presence of outsiders, or of any unusual noises.  Pomeranians are typically very friendly dogs and are not considered to be aggressive; however, at times they can be very protective of their food and toys.  They are a smart breed with an eagerness to please which makes them easily trained.
Poodle
The Poodle comes in three different sizes, toy (10" and under, 6-9 1bs.), miniature (10-15", 15-17 1bs.), and standard (over 15", 45-70 1bs.).  The Poodle has been cited as being the 2nd most intelligent breed of dog.  Their exceptional intelligence, paired with the fact that they are generally very eager to please, empowers them to excel in obedience training.  They learn quickly and will delight in showing off their new tricks.  Poodles are generally very easy to housebreak.  They are loyal and devoted companions, extremely people-oriented, and crave lots of love and attention.  They are typically calm, good natured, with a sweet temperament, and the ability to bond with all members of their human family.  The standard poodle, in particular, does extremely well in families with young children, while the toy and miniatures fair better with older children.  Poodles do not do well in households where they will be left alone for long periods of time, left outside, or bound to one room of the house.  Poodles have an extremely low-shedding, dense coat which is either curly or corded and should be groomed every 6 – 8 weeks to prevent mats and tangles.  If you should so decide, their coat can also be kept short for low-maintenance.  Poodles come in a variety of colors such as silver, cream, gray, blue, black, white, apricot, red, caf-au-lait, brown, and parti-colored.  The Poodle is oftentimes referred to as the hypo-allergenic dog.  But, while there truly is no such thing as a completely hypo-allergenic dog, they are unquestionably more compatible with allergic persons than other breeds.   Being classified as highly energetic, the poodle, like most dogs, will appreciate daily exercise, such as a walk, play session, or a run at the dog park.
Click here to see complete listing of all Poodle mixes.
Photo Submitted by: Candice 5/2/13
Summer is a 4 month old pom a poo. in the picture she was 8 weeks. she still weighs 1.5 lbs. very playful and smart. sge took after the pomeranian but sges apricot in color. her cute little tail curls up. shes playful and smart. very good dog. my kids are crazy about her and she loves them to. her only bad habit is when she's mad at me she tears up her bed.










Photo Submitted by: Julie 5/21/13
Umi is part poodle, maltese, pomeranian – 2yrs old













Photo Submitted by: Stacey 6/2/13
This is Roxy.. half Pomeranian and half Poodle. She is 1 year. The most loving dog i have ever had! and SMART!!









Submitted by: Sandy 7/14/13
Here's Lil' Roy. He's a Pomapoo who got certified as a Therapy Dog and loves to go to the Care Center. He loves to pose for pictures. Here he is at a hospice posing for his annual Christmas card. Yes, he thinks he's a rock star!

















Photo Submitted by: Sharon 8/7/13
Here is Mitzie she's 6 months old and the most loving and sweet dog ever. She's Pomeranian and poodle mix.













Photo Submitted by: Bernette 8/20/13
This is my baby, Tango. He is 14 months.














Photo Submitted by: Nerissa 9/24/13
hello!! this is shyne, my 1stbaby pomapoo 6wks old. my kids & I have fell deeply in love with him 🙂 So I need help on "best" ways to train him (he'll be a house dog )…crate, potty, house, etc. Any feedback/suggestions/ideas is greatly appreciated












Photo Submitted by: Victor & Lucresha 9/27/13
This is Maggie going for a ride to petsmart











Photo Submitted by: Nadine 11/26/13
This is Felice. She is 1 year old, weighs 6 lbs and is the love of my life. Talk about a rescue dog – she rescued me!













Photo Submitted by: Eugene 11/27/13
My pomapoo I just got him today yay!











Photo Submitted by: Kiki 11/30/13
This is our little Pomapoo, 11 weeks old!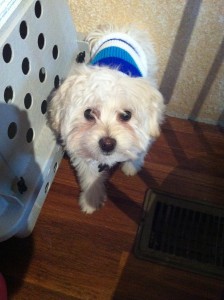 Photo Submitted: 12/2/13
This is my little guy Pomeranian dad poodle mother. He is 3months













Photo Submitted by: Hayley 1/4/14
Teddy our adorable pomapoo 9 months old















Photo Submitted: 1/19/14
This is Gizmo very loving !












Photo Submitted by: Tom 2/19/14
My little friend Muffin loves swimming and playing in the woods!












Photo Submitted by: Toni 3/22/14
Archie our sweet boy! At three months old















Photo Submitted by: Jennie 4/22/14
This is 10 week old Barley! He is so bright with the energy level as a circus dog! We just adore him!















Photo Submitted by: Lea 5/25/14
Introducing Ouzo!!! He's a 20 month old pomapoo. Love him!!!















Photo Submitted by: Paula 7/31/14
Rowdy Redmoon is sweet, smart and a little bit of a tart. He has been a love bucket all of his 5 yrs!















Photo Submitted by: Christian 7/27/14
My Pomapoo Bo at 14 months old. Mum was an orange Pomeranian and dad was an apricot poodle. She's 13″ tall















Photo Submitted by: Sheryll 9/20/14
Hi I am Thor. a pomeranian poodle… I am the new petson of my family 😉 …
Very smart, energetic, happy baby…













Photo Submitted by: Barbara & Mario 11/23/14
Elvis our 11 week old pomapoo















Photo Submitted by: Donna 12/28/14
This is my rescue Oliver!!! I love him to pieces!













Photo Submitted by: The Mindermann's 1/30/15
Our sweet Bandit, he's 4 years old and a bundle of joy.













Photo Submitted by: Joni 2/3/15
This is Meilin. She is a pomapoo. She is cute but she is also a little brat. I really hope she gets out of the growling and biting stage soon. She is 8 weeks old. Ugh! Any advice is very welcomed!













Photo Submitted by: bobbi jo 2/6/15
This is my coco she is 12 weeks old and she is doing great on her potty pads! I'm very thankful for that. my problem is the growling and trying to be aggressive when taken paper away from her . Any advice ?













Photo Submitted by: Ramona 2/12/15
Molly is 3 1/2? don't really know what poodle cross she is? Got her & her daughter by way of the owner dying. Sad, but they both did well with us in no time! I filled a bag with all the fur I trimmed off, & still find matted small areas. I hope I find out what she really is but it doesn't matter cuz she's a luvable gal!









Photo Submitted: 4/7/15
this is my little pomerpoo boy he is 11 months old












Photo Submitted by: Jasmine 4/29/15
This is Kai,16 months.Our whole family is so in love with him!His dad is Pomeranian and his mom is Pomapoo.So is he a pom pomapoo?














Photo Submitted by: Bonnie 6/1/15
Chloe is a pomapoo rescue dog and we have no idea how old she is. She is 3/4 poodle and 1/4 pomeranian. I had her DNA tested at Wisdom Panel (from Amazon). Most people think she is a bichon mix. She is very loving and smart, and she has been trained. I have had her for a year and a half and can't imagine being without her. She likes people and goes up to them to be petted or just to greet them. She doesn't like big dogs and growls and snarls at them, but she is fine with small dogs and cats. She is cuddly and she sleeps with me.






Photo Submitted by: Magic 6/6/16
This is Magic from Austin, Texas at about 15 weeks old. He is the sweetest dog! He is a Pomapoo. Great with kids and strangers… he is not a watch dog at all.











Photo Submitted by: Cindy 6/24/15
This is Bella she's 22week old she is adorable














Photo Submitted by: Liz 7/12/15
Our 1 year old Pomapoo, Bert. He is amazing. He had patella issues with his knees dislocating (apparently a common defect in small breeds) and required knee surgery on both hind legs but is recovering well.













Photo Submitted by: Kathy 7/13/15
This is Lily, the sweetest and best dog I've ever known!










Photo Submitted by: Missy 7/18/15
Here is my 5 month old pomapoo Pooter! She's very smart and happy! Already been house trained for 1 month. We bell trained her. She rings a bell when she has to go outside!













Photo Submitted by: Brandon 8/6/15
Romo. Our lil' pompoo. He's fifteen weeks and a handful but we love him. (1st dog family)














Photo Submitted by: Patty 9/5/15
Simon our Pomapoo 💕
















Photo Submitted by: Allison 9/8/15
This is my adorable, loving little baby Gemma. She is a pomapoo and is 6 years old.













Photo Submitted by: Jane and Clive 9/11/15
this is a pic of 8wk old "Elsie" our Pomapoo girlie, she's our wedding present to each other and a much loved edition to our pet family!














Photo Submitted by: Alexandra 10/16/15
Stella, my pomapoo. Around 11 weeks.
















Photo Submitted by: Marie Edwards 11/6/15
2 year old Cooper the Pomapoo (aka Coops, Coopy, Pooper): The most adorable, funny and loving little girl dog ever 😀










Photo Submitted by: Tom 11/20/15
Maximus Decimus Meridius~the most awesome pomapoo ever!!













Photo Submitted by: James brqndon 11/22/15
I have never loved anything as much as I love our little Lili. We basically rescued her from a owner with mental health and drug problems. We think she is a pomerpoo and is almost 8













Photo Submitted by: Judy Roll 12/8/15
This is Kasper 1/2 Pom & 1/2 toy poodle
He's 3 months old.













Photo Submitted by: n.osgood
Gizmo the year old pomapoo











Photo Submitted by: Vicki 1/5/16
This is my pomeranian-poodle Baloo! He is 2 years old, and he's my sun and stars. He enjoys snuggling and making impatient snuffs and huffs.















Photo Submitted by: Hannah 1/12/16
This is Champagne! She is 4 month old pomapoo and has lots of energy! She can also be quite the cuddler.













Photo Submitted by: Karen Schied 3/2/16
This is my Fletcher, a 5 year old Pomapoo. His mom is the Pom and dad Toy Poo…he weighs in at 21# and has been that weight for 3 yrs now. He is our joy, so smart and funny, loving and very affectionate. We've had him since he was 7 weeks and 2#'s! Easy to train, doesn't shed…picky eater though!












Photo Submitted by: Rhonda Hamilton 3/15/16
My little Una … She is now 3 years old and still very loving but SOO full of energy….1/2 poodle 1/2 Pomeranian













Photo Submitted by: Rose 5/23/16
My Pompoo pompadora who is 1//2 pom 1/2 poodle….3 years old and 8 pounds with my 7 pound 1.5 year old poodle max.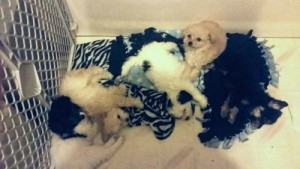 Photo Submitted by: Rose 5/23/1
My Pompoo pompadora who is 1//2 pom 1/2 poodle….3 years old and 8 pounds with my 7 pound 1.5 year old poodle max. Puppies. 3/4 poodle 1/4 pom. One charting to be 7/8 pounds three pups charting to be around 5/6 pounds and one small female is charting 4 pounds.






Photo Submitted by: Carol 5/26/16
This is our beautiful Queenie. She is a Poodle Pom Cross. Most beautiful playful little girl.










Photo Submitted by: Odie 9/18/16
This is Pheobe she is a pomapoo. She is about 4 lbs. at 16 weeks/ going on 4 months. She is loving and playful and barks when playing. Not trained to potty yet??? Working on it.








SUBMIT A PHOTO OF YOUR POMAPOO DOG! Simply use the comments and image uploader section, below.
IMPORTANT: You MUST state the type of Poodle mix in the Post Content section below! (For Example, Bich-Poo, Cavapoo, Maltipoo, etc.) Thank you for sharing! (Please allow up to 24 hours for your photo to appear.)