Scoodle
Mix: ½ Scottish Terrier (Scottie) & ½ Poodle
Size: 9 – 17 pounds, with an average height of 10 inches
Coat: Coat is medium long, and can range from straight, wavy or loosely curled.  Coat color is most commonly solid black, but can also be wheaten, or include a sprinkling of white or silver.  Low shedding.
Scoodle
A Scoodle (also known as Scottiepoo or Scottish Shoodle) is a mix between a Scottish Terrier and a Poodle. They are a smart and loyal dog that enjoys human companionship.  They are lively and playful and will require moderate daily exercise.  They may be quite easy to groom if they take on the shorter coat of the Scottish Terrier, or may require more frequent grooming if they take on the longer, curlier coat of the Poodle.  Temperament and personality traits inherited will be a mix of both parent breeds.
When considering the nature of the Scoodle you must consider the characteristics of both the Scottish Terrier and the Poodle separately in order to determine the characteristics the Scoodle may exhibit.
Scottish Terrier
The Scottish Terrier is a lively and active breed that adores play time and walks.  They are rugged and sturdy in build and are often described as determined and fearless.  They have proven to be very independent and of a calmer nature than that of the other terriers.  They are very intelligent and learn easily; however their stubbornness can make them a challenge at times.  Originally bred to hunt they can be diggers and chasers of small animals.  Although they are friendly toward people they oftentimes exhibit an air of aloofness toward strangers.  They are very loyal and loving toward their owners, but may bond closer to one or two family members.  Scottish Terriers may be aggressive toward other dogs and should therefore be socialized with other dogs at an early age in order to avoid this tendency.
Poodle
The Poodle comes in three different sizes, toy (10" and under, 6-9 1bs.), miniature (10-15", 15-17 1bs.), and standard (over 15", 45-70 1bs.).  The Poodle has been cited as being the 2nd most intelligent breed of dog.  Their exceptional intelligence, paired with the fact that they are generally very eager to please, empowers them to excel in obedience training.  They learn quickly and will delight in showing off their new tricks.  Poodles are generally very easy to housebreak.  They are loyal and devoted companions, extremely people-oriented, and crave lots of love and attention.  They are typically calm, good natured, with a sweet temperament, and the ability to bond with all members of their human family.  The standard poodle, in particular, does extremely well in families with young children, while the toy and miniatures fair better with older children.  Poodles do not do well in households where they will be left alone for long periods of time, left outside, or bound to one room of the house.  Poodles have an extremely low-shedding, dense coat which is either curly or corded and should be groomed every 6 – 8 weeks to prevent mats and tangles.  If you should so decide, their coat can also be kept short for low-maintenance.  Poodles come in a variety of colors such as silver, cream, gray, blue, black, white, apricot, red, caf-au-lait, brown, and parti-colored.  The Poodle is oftentimes referred to as the hypo-allergenic dog.  But, while there truly is no such thing as a completely hypo-allergenic dog, they are unquestionably more compatible with allergic persons than other breeds.   Being classified as highly energetic, the poodle, like most dogs, will appreciate daily exercise, such as a walk, play session, or a run at the dog park.
Click here to see complete listing of all Poodle mixes.
SUBMIT A PHOTO OF YOUR SCOODLE DOG! Simply use the comments and image uploader section, below.
Photo Submitted by: Andrew 10/24/12
Here is a picture of my year old Scottie (dam) x Poodle (sire) girl, whose name is Scout, along with her big sister Milly (Westie). Scout is a compulsive obsessive ball chaser and bringer-backer, and has the loveliest temperament.









Photos Submitted: 10/4/13
We LOVE our Scoodle he is great with our kids and he loves us all the same, smart and beautiful!

Photo Submitted by: David 10/10/13
This is Snoopy. He is a 4 year old Scoodle.











Photo Submitted: 10/15/13
Mr Thor head














Photo Submitted by: Ashley 12/6/13
Bella at about 10 months old. Mixed with a Scottie and toy poodle. She's fully grown and only weighs, a healthy, 8 pounds for her size. Everyone stills thinks she's a puppy, even though she's now 2 years old!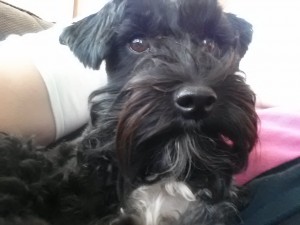 Photo Submitted: 1/17/14
Cutest scoodle perry berry










Photo Submitted by: Ken 5/4/14
OH MY!!! I LOVE THESE DOGS!!! This is a picture of Zak, my best buddy in the whole world for 16+ years. I had to put down a week ago as he was ill and suffering. So sad, so hard to do. I miss and love him SOOOOO much. He was given to me by someone who adopted him and then decided 3 days later they didn't want him. He was the BEST dog ever. So loving and loyal. I miss my little buddy so much 🙁 I have had many dogs in my life, Irish Setter, Rottweiler, Boxer, Poodle, shih tzu, this is the only mixed breed dog I have ever owned and he was THE BEST. So happy and so much fun all the time. He NEVER had any health problems until the last 3 months of his life, and that was only due to his age. All the pure bred dogs I have had always had some type of this or that going on with their health, but not this guy. I would LOVE to find another one. I thought he was one-of-a-kind. I didn't know there was a Scoodle breed! If anyone out there can point me in the right directions to finding a Scoodle puppy, PLEASE email me at kshu1969@sbcglobal.net




Photo Submitted by: Marcia 1/25/15
New addition to our family, love, love love him. About 5 months old, so sweet and loyal we named him Shadow because he follows me everywhere. He also runs in circles until he is exhausted even though we are active with him and we live in a large house. He has a happy growl when you play with him and even sometimes he growls when he is running circles by himself. Looking forward to many happy years with him.










Photo Submitted by: Kati 6/13/15
This is our Scoodle Milli. She was 5 months old in this picture. She is now 6 month and as sweet as can be. She is easy to train and great with everyone in the family.















Photo Submitted by: Betsy 6/20/15
Just adopted Simon, a Scottie/poodle mix (scoodle), a few days ago and I truly feel so lucky to have found such a great dog. He came completely housebroken and is responding really well to training. He is also one of the sweetest most well behaved dogs I've ever met. He loves everyone he meets. This being said he was brought to the pound with matted and dirty hair and obviously abandoned or ignored. I thought I would have my work cut or for me but I was so wrong. He definitely got all the great qualities of both breeds. Can you tell I'm in love?










Photo Submitted by: Gillian 8/26/15
Hamish the Scoodle aged 12 weeks, now in Port of Ness, Lewis












Photo Submitted by: Elizabeth 8/29/15
Bowie and Binx! They are sister scoodles! Bowie is independent and quick to learn tricks. Binx is the lover of the two. They are both very energetic. They are about 4.5 months now. We are very curious to see how the grow up to look! Bowie has short hair and is pretty tall and lanky. Binx is a little shorter and has long hair. They're very obedient for their age and extremely loyal. The only issues we have had with them is potty training. We've discovered that they either need complete freedom with an open door or it has to be a game. Apparently, simply telling us they need to go potty isn't fun enough.










Photo Submitted by: Chris Kershaw 12/13/15
This is Ludo
He's a 4 year old scottypoo













Photo Submitted by: Princess Danzy 1/5/16
This is My Trixie Renae!! she will be 9years old on January 10th! she is my life, and my one and only fur baby. She is super smart, wouldn't trade her for the world! I think everyone should get a scoodle!!!













Photo Submitted by: Lizzie M 2/16/16
This is Iggy. He is a 3 1/2 – 4 year old scoodle. He is a rescue and we are so lucky he is a part of our family! He loves everyone and has never met a stranger. He's sweet, playful, smart and sometimes a little bit stubborn. 🙂












Photo Submitted by: Samuel W. 3/2/16
The scottish terrier/ poodle mix makes for such a wonderful family dog. They are a loyal and loving bread, very easy to train, and an energetic, beautiful soul that, in my opinion, makes it one of the better dog breeds out there.














Photo Submitted by: Tiffani 3/19/16
This is my Scoodle, Coco Chanel! She's my ONLY fur baby and she has 2 brothers and 1 sister of the human kind!😊 We rescued her from a shelter 2 weeks ago! She is 3 years old and was already house broken and spayed. We love her SO much! This picture was taken about a week ago after her 1st professional grooming! We had her coat cut pretty short, but I'm ready for it to grow back because I miss her curls!!!










Photo Submitted by: matthew gutierrez 3/31/16
MAX THE SCOODLE












Photo Submitted by: Lynn 4/20/16
This is Dexter – 5 years old now. I've had him since a puppy. Very smart, but a little bit of attitude! He is my best friend indeed. His father is a poodle, mother a Scotty/Poodle cross.








Photo Submitted by: Emily 5/25/16
Sybil the scoodle! An absolute sweetheart
















Photo Submitted by: Abigail Hercules 8/10/16
This is Dusty, my Toy Poodle/Scottish Terrier 'Scoodle'. I would like to find her a dog to mate with. She is next in season in September. We live in London. Can anyone help?














Photo Submitted by: Emily Cole 8/10/16
Midnight is my very first dog and she is the sweetest and most affectionate dog! She brights my day and she always is by side to play and love on me! Im so lucky and blessed she found me best dog ever!! She is a scoodle a scottish terrier and poodle mix and is a few months old!














Photo Submitted by: Karla 3/5/17
Emma 7 month old Skoodle.













IMPORTANT: You MUST state the type of Poodle mix in the Post Content section below! (For Example, Bich-Poo, Cavapoo, Maltipoo, etc.) Thank you for sharing! (Please allow up to 24 hours for your photo to appear.)