Affenpoo
Affenpoo
Mix: ½ Affenpinscher & ½ Poodle
Size:  7 – 9 pounds, and approximately 9 – 11 inches tall
Coat:  Coat is usually coarse, and colors are brown, black, gray, or tan.  Low to no shedding.
*Many people with allergies prefer Poodle mixes as their fur is more hypoallergenic than most dogs (a characteristic inherited from the Poodle)
Affenpoo
An Affenpoo is a mix between an Affenpinscher and a Poodle.  Most commonly the mix is from the tiny Affenpinscher and the Toy Poodle which makes the Affenpoo a small dog weighing in at anywhere from 7 – 9 pounds and standing approximately 9 – 11 inches tall.  Being small in size they are ideal for apartment or city dwellers as they don't require much space to remain happy and healthy.  As with any dog they do, however, require exercise and adore taking daily walks.  They are very intelligent and usually possess the desire to please their owners which makes them very easily trained.  Their coat is usually coarse with short to medium fur which almost always takes on the curls of the Poodle.  They can be brown, black, or gray.  The Affenpoos love to be with people, however, due to their guard dog nature, they can tend to irritate easily and possibly snap at children who have not yet learned to respect the dog and treat it gently.  This breed is usually not recommended for households with small children.
When considering the nature of the Affenpoo, you must consider the characteristics of both the Affenpinscher and the Poodle separately in order to determine the characteristics the Affenpoo may exhibit.
Affenpinscher
The Affenpinscher is very active and loves to play.  Affenpinscher owners will declare these breeds as being extremely affectionate, charming and very sweet with their family.  They are capable of amazing agility, have great courage and stamina, and are very entertaining dogs to watch.  They are very intelligent, but can also be considered very stubborn.  They can be very difficult to housetrain so crate training is the most fitting method. They are very protective of their food, water and toys and are not recommended for households with young children.  They are also a fearless breed and usually will not back off if attacked by another dog no matter its size.
Poodle
The Poodle comes in three different sizes, toy (10" and under, 6-9 1bs.), miniature (10-15", 15-17 1bs.), and standard (over 15", 45-70 1bs.).  The Poodle has been cited as being the 2nd most intelligent breed of dog.  Their exceptional intelligence, paired with the fact that they are generally very eager to please, empowers them to excel in obedience training.  They learn quickly and will delight in showing off their new tricks.  Poodles are generally very easy to housebreak.  They are loyal and devoted companions, extremely people-oriented, and crave lots of love and attention.  They are typically calm, good natured, with a sweet temperament, and the ability to bond with all members of their human family.  The standard poodle, in particular, does extremely well in families with young children, while the toy and miniatures fair better with older children.  Poodles do not do well in households where they will be left alone for long periods of time, left outside, or bound to one room of the house.  Poodles have an extremely low-shedding, dense coat which is either curly or corded and should be groomed every 6 – 8 weeks to prevent mats and tangles.  If you should so decide, their coat can also be kept short for low-maintenance.  Poodles come in a variety of colors such as silver, cream, gray, blue, black, white, apricot, red, caf-au-lait, brown, and parti-colored.  The Poodle is oftentimes referred to as the hypo-allergenic dog.  But, while there truly is no such thing as a completely hypo-allergenic dog, they are unquestionably more compatible with allergic persons than other breeds.   Being classified as highly energetic, the poodle, like most dogs, will appreciate daily exercise, such as a walk, play session, or a run at the dog park.
Click here to see complete listing of all Poodle mixes.
SUBMIT A PHOTO OF YOUR AFFENPOO DOG! Simply use the comments and image uploader section, below.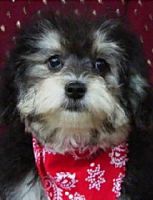 Photo submitted by: Herman 4/29/12
Hi! Once had an Affenpinscher. As she aged she behaved as yours but with us! One of her pups looked like this. Now retired, I want an Affenpoo ideally, but have seen this "look" in Shih-poo and Malti-poo. But unable to find a breeder. Can you help?
Thank you very much.
Herman
Santa Barbara CA






Photo submitted by:  Amber  6/26/12
This is my baby boy Trigger.. He is 2 1/2 years old. He's been in the family since 3mo. All my life, I was never one for dogs. The children asked for a puppy and I gave in. As typical children, he was fun to play with, not to take care of. I found myself doing it all. Over time I started to fall in love. He is the most comforting, loving, obedient, sweet, sweet pet. I now consider him my youngest child.. he is definately part of this family.






Photo Submitted by: Matthew 2/4/14
This is Max, im not sure what kind of dog he is. He weighs about 6lbs and will be 1yr old this month, i was looking at all the dogs and thought he looked like an Affenpoo can anyone help me













Photo Submitted by: Joanna 4/9/14
This 6 month old Maxie. He is a rescue dog and we have been trying to identify his 'breed' since we got him. Initially, we thought he was a Shorkie (Shih Tzu /Yorkshire terrier cross) but having seen pictures of Affenpoos and read about their temperament, we are sure he is one!













Photo Submitted by: Andrew 9/25/14
Here is Jaimie girl. Approx 3 yrs old from rescue. Very much super sweet, playful, love bug. Is scared of new people. Working on positive reinforcement training. Was told affenpinscher/poodle mix.











Photo Submitted by: Jen 8/19/15
This is Max. He's a 7 year old affenpoo and also the world's best dog. When he was a year old, he was rescued from a puppy mill in Iowa, where he was about to be put down because of his "leather" ears. The greedy breeder wasn't smart enough to recognize malnutrition in a puppy, which was the reason hair wouldn't grow on his ears. I took him in as a foster and couldn't let him go. His first year of life had been awful and once he realized I was there to take care of him, not hurt or neglect him, he imprinted like a baby chick. He's smart, loyal, sweet and funny. All the things a family pet should be.








Photo Submitted by: Elaine 3/7/17
DNA tested affenpoonerianian. Affenpinscher toy poodle Pomeranian
















Comments and Image Uploader – Share a photo of your cute poodle mix with the world!
IMPORTANT: You MUST state the type of Poodle mix in the Post Content section below! (For Example, Bich-Poo, Cavapoo, Maltipoo, etc.) Thank you for sharing! (Please allow up to 24 hours for your photo to appear.)