Whoodle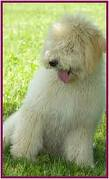 Mix: ½ Soft Coated Wheaton Terrier & ½ Poodle
Size: Most commonly bred with the standard size Poodle, but may also be bred with the miniature size Poodle.  Size can range from 25 – 40 pounds.
Coat: Coats are soft and long and can be straight, or wavy.  Can come in a variety of colors ranging from wheat color, apricot, red, black, silver, chocolate, or parti (spotted).  Low to no shedding.
*Many people with allergies prefer Poodle mixes as their fur is more hypoallergenic than most dogs.
Whoodle
A Whoodle (also known as Swheat-n-poo, or Sweatenpoo) is a mix between the Soft Coated Wheaten Terrier and most commonly the Standard Sized Poodle, but may also be bred with the miniature Poodle.  They range in size from approximately 25 – 45 pounds.  They have luxurious, soft coats that are quite long and require frequent grooming in order to prevent mats and tangles.  As puppies, they may have a dark coat that can develop into a lighter shade as they grow to an adult.  Colors can be wheat, apricot, red, black, silver, chocolate, or parti (spotted).  Whoodles are generally very loving and friendly dogs that bond very quickly with all members of their human families.  They are very active and playful and make a great family dog as they do very well with children and also get along very well with other dogs.  They are playful and energetic and adore going for walks or runs.
When considering the nature of the Whoodle, you must consider the characteristics of both the Soft Coated Wheaten Terrier and the Poodle separately in order to determine the characteristics the Whoodle may exhibit.
Soft Coated Wheaten Terrier
The Soft Coated Wheaten Terrier has an appearance of a happy, strong and well-proportioned dog.  This sweet-tempered and social terrier makes a great family pet and is wonderful with children.  Their friendly, social nature is a quality that generally allows them to get along well with all people and animals alike.  They will bond nicely with all members of their human family preferring to be with them, and not doing well if left alone for long periods of time.  They are an intelligent breed that easily grasps what is expected of them which therefore makes them quite trainable.  Daily exercise is required for this dog as they are high energy making them a perfect candidate for someone looking for a dog to play, run or take walks with.  They will require daily exercise in order to prevent boredom which can lead to mischievous behavior.  They make great watchdogs and will bark at the arrival of a guest, but seldom bark unnecessarily.
Poodle
The Poodle comes in three different sizes, toy (10" and under, 6-9 1bs.), miniature (10-15", 15-17 1bs.), and standard (over 15", 45-70 1bs.).  The Poodle has been cited as being the 2nd most intelligent breed of dog.  Their exceptional intelligence, paired with the fact that they are generally very eager to please, empowers them to excel in obedience training.  They learn quickly and will delight in showing off their new tricks.  Poodles are generally very easy to housebreak.  They are loyal and devoted companions, extremely people-oriented, and crave lots of love and attention.  They are typically calm, good natured, with a sweet temperament, and the ability to bond with all members of their human family.  The standard poodle, in particular, does extremely well in families with young children, while the toy and miniatures fair better with older children.  Poodles do not do well in households where they will be left alone for long periods of time, left outside, or bound to one room of the house.  Poodles have an extremely low-shedding, dense coat which is either curly or corded and should be groomed every 6 – 8 weeks to prevent mats and tangles.  If you should so decide, their coat can also be kept short for low-maintenance.  Poodles come in a variety of colors such as silver, cream, gray, blue, black, white, apricot, red, caf-au-lait, brown, and parti-colored.  The Poodle is oftentimes referred to as the hypo-allergenic dog.  But, while there truly is no such thing as a completely hypo-allergenic dog, they are unquestionably more compatible with allergic persons than other breeds.   Being classified as highly energetic, the poodle, like most dogs, will appreciate daily exercise, such as a walk, play session, or a run at the dog park.
Click here to see complete listing of all Poodle mixes.
SUBMIT A PHOTO OF YOUR WHOODLE DOG! Simply use the comments and image uploader section, below.
Photo Submitted by: Ann 10/17/13
Here is our 16 month old Whoodle Sailor. He is currently at 30 lbs which our Vet does think is his full grown size. He is a very active dog who needs a ton of exercise and is happiest when he has all his family with him. He is a delightful dog and a true member of the family.












Photo Submitted by: Amy 12/17/13
This is our Whoodle, Oliver. He is currently 9 weeks old and the greatest little pup. He is super smart and a joy to our family.













Photo Submitted by: Scott 12/26/13
Our Whoodle Cash. About 10 weeks. Looks like she would get along with Oliver. Such a joy.
















Photo Submitted by: Grace 5/1/14
My dog Maggie












Photo Submitted by: Alexus 6/6/14
Izzy the whoodle!















Photo Submitted by: Noelle 8/22/14
This little diva here is Stella. My Stell-bell is about 21 pounds, 18 inches tall, and loves a good belly rub. She loves eating snacks and long naps! Stella is also very playful and energetic. 🙂












Photo Submitted by: Prizz 9/12/14
This little raskel's name is Kiki. He is super energetic, and likes to make a game out of anything. He will burst into random moments of kisses and fun. He is extremely social with all humans and other animals. Above all he is really lovable and hyper.















Photo Submitted by: Joanne 10/4/14
Our Whoodle, Doc, is a year old bundle of pouncing fun. He's passed 55lbs. So much for 35-45 pound size! Mom was an Apricot Std poodle, Dad was a Buff Wheaton.















Photo Submitted by: Mary 12/28/14
Our Whoodle named "Miles". He is four months old and the smartest puppy we have ever owned. He is perfect with children and loves everyone. He was easy to potty train and a perfect dog. We absolutely love this dog.









Photo Submitted by: Amanda 1/3/15
Our whoodle Ary. 5 months and around 27 lbs. She is the sweetest, most well behaved pup and she gives the best hugs!













Photo Submitted by: Joann 1/14/15
Emi one year old!















Photo Submitted by: Janet 1/25/15
Max my Whoodle rescue baby he is still a puppy about 10 months old. He is 17″ tall and weighs 18#. He is very
smart very gentle very playful very loving and of course becoming very spoiled









Photo Submitted by: Alexis 2/8/15
Liliana is my wheaten terrier & poodle mix breed. She's 3months, very playful and outgoing. She will only grow to be 8 pounds.













Photo Submitted by: Marie 3/6/15
Olive is a loving and energetic 15 week old whoodle puppy. She is exactly the description of both the poodle and wheaton. She fits perfectly into our family of 5 people, 2 dogs, 1 cat, and 9 chickens. She does need some training to stop chasing the chickens 🙂












Photo Submitted by: Mark 6/9/15
Here is our nine year old whoodle, Priscilla. She sleeps on the bed with us. When we come home from work, she celebrates by running past the front door of our house, over and over!















Photo Submitted by: Sonia 7/6/15
This is Harley, our 9 week old whoodle (1/2 standard half wheeten) . He likes to chase ice cubes on the deck, and has mastered running up and down our kiddie slide. He is crate trained for naps and night time sleeping. Still working on potty training.













Photo Submitted by: Hella 7/8/15
This is Naala, our 5 month old Whoodle. She is such a wonderful addition to our family.
















Photo Submitted by: Steve 7/26/15
This is Buster, our 4 month old whoodle. Incredibly smart, very playful, but is going to be a big boy……almost 30 lb already!















Photo Submitted by: Eddie 8/8/15
Eddie is our 4 month Whoodle ! He's full of energy , very trainable, a little stubborn but a real joy !













Photo Submitted by: Michael 10/3/15
Mia is a 5 month old Mini Whoodle
(Min Poodle/Wheaten) #17. Great
Pup, loving and a smart little girl.
Potty trained in 2 days.













Photo Submitted by: Michele 12/4/15
We adopted our Kai from a rescue. They know his mom is poodle but not what dad is. Having looked at these pics I think he is a Whoodle. Intelligent. Eager to please long legs and lots of fun.













Photo Submitted by: Jeff 12/14/15
Kirby is a 5 year old 70lbs whoodle. Coat leans more towards poodle coat, but not nearly as tightly curled. He's a wonderful dog – great manners and easy to train. His mom was a Silver Standard Poodle (60 lbs) and Wheaten dad (45 lbs). Needs a long daily walk … as with most breeds. If he has a good walk, he's very calm in the house. He does bark some at strangers and animals who walk by, but visitors are fast friends.









Photo Submitted by: Sully 12/29/15
This is Sully, our 4 year old, 55 Lb. whoodle. His dad is a red standard poodle and his mom a soft coated wheaten terrier. Sully is a total love bug. His favorite things are giving kisses, patrolling the neighborhood on his walks, and getting treats. Even though he loves barking at every passerby (ALL THE TIME) he has quickly become our most favorite guy.











Photo Submitted by: Margaux 1/6/16
This is Tali, our 10 week old whoodle. She loves food, playing (little growly and biting, but she's a pup of course!), and walks and long naps!. She loves playing with other dogs and kissing people too.












Photo Submitted by: Shawn Williams 1/28/16
Zoey's our little Whoodle who's about 13 weeks old now
She's very energetic and playful, and very noisy. She's adorable as can be though! She's decently potty trained but sometimes she pee's when she's very excited and playing. I'm her male owner of the family and when she plays she tends to bite and nip more with me.











Photo Submitted by: Ellen 4/6/16
Whoodle – Penny is a rescue and we got her @ 3 months but I JUST figured out she's a mini whoodle (8 1/2 lbs). This pic is @ 5 months. Keeps me BUSY! She does REALLY well with our cats and shoodle.










Photo Submitted by: Tara 4/15/16
Meet Wally! In this photo the handsome fellow is 6 months old and weighs 24 lbs. His dad is a moyen poodle and mom is a soft coated wheaten terrier. He loves toys, being outside, walks and finding stray socks. He's a smart little bugger, only needing a small bit of practice to learn new commands or tricks and did great at housebreaking with the use of a bell. He's a joy!











Photo Submitted by: Lynne and Billy 6/7/16
Meet Maizy, our six month old Whoodle, already 42 lbs! Very smart, energetic, loving, mischievous, loves her toys, loves to run with the wind – growing up to be a very delightful and loving girl.











Photo Submitted by: Mary 6/9/16
This is our Whoodle Macree James he is 6 months old and has stolen our hearts he is absolutely beautiful. He has made our family complete.










Photo Submitted by: Janet Bradford 9/5/16
This is a new picture of Max, my Whoodle. I have had him for 20 months and he just amazes me everyday. Such a wonderful dog. He is a rescue baby and what a prize I found that day. He is so very intelligent and such a sweet nature he has. He is a joy.










IMPORTANT: You MUST state the type of Poodle mix in the Post Content section below! (For Example, Bich-Poo, Cavapoo, Maltipoo, etc.) Thank you for sharing! (Please allow up to 24 hours for your photo to appear.)