Goldendoodle/Mini Goldendoodle
Mix: ½ Golden Retriever & ½ Poodle
Size: Dependent upon which size Poodle is used for breeding.  Standard Goldendoodles are approximately 45 – 75 pounds, and 20 – 24 inches tall.  Mini Goldendoodles sired by mini or toy Poodles are approximately 25 – 45 pounds, and 13 – 21 inches tall.
Coat: Coat is 4-6 inches long, and can range from wavy to curly.  It is soft in texture and can be found in a variety of colors.  Options for coat colors range from chalk/white, cream/gold/carmel, apricot/red, chocolate/café, black, silver, phantom, sable, brindle/merle/mosaic, parti/abstract
*Many people with allergies prefer Poodle mixes as their fur is more hypoallergenic than most dogs (a characteristic inherited from the Poodle)
Goldendoodle/Mini Goldendoodle
The Goldendoodle is a mix between a Golden Retriever and a Poodle.  They can come in different sizes depending upon which size Poodle is used in the breeding process.  Standard Goldendoodles are approximately 45 – 75 1bs, and 20 – 24 inches tall.  Goldendoodles sired by mini or toy poodles are approximately 25 – 45 1bs, and 13 – 21 inches tall.  Since the Goldendoodle comes from two parent breeds that adore people, you can expect that you will get this inherited trait in the Goldendoodle as well.  These are highly sociable and loyal dogs that require lots of love and affection.  They delight at being the center of attention, and thrive when they get it!  They do not do well if left alone for long periods of time, or left outside for the majority of their days.  They are exceptionally intelligent and quite easily trained.  Their intelligence will often entertain you as they figure out ways to get your attention such as steeling household items just to make you chase them.  Any mischievous or naughty behavior can quickly be corrected with obedience training where they will shine as the smartest student in their class.  They have a wonderfully well-balanced temperament that makes them perfect for just about anybody looking for a fun-loving, easy going, easy to train, and adorable dog.  Their good natured qualities coupled with the fact that they love being around children make them a fantastic family dog.  They fare well with even the smallest of children, seeming to understand they should be extra gentle and careful around them.  Getting along with other animals in the household does not seem to be an issue with the Goldendoodle.  They tend to stay playful and energetic well into adulthood so owners should be prepared to exercise their Goldendoodle daily.
When considering the nature of the Goldendoodle, you must consider the characteristics of both the Golden Retriever and the Poodle separately in order to determine the characteristics the Goldendoodle may exhibit.
Golden Retriever
The Golden Retriever is rated high on the list of most popular family dogs, and for good reason.  This breed is highly intelligent, very social, sweet, gentle, well-mannered, and exceptionally friendly.  They crave attention and prefer to be around you at all times which means they definitely work best for someone who is willing to dedicate their time to them and not leave them alone for long periods of time.  They are wonderful with children as well as with other dogs, cats and livestock.  They are very patient and calm, and display a willingness to learn which makes them excellent as guide dogs, and search and rescue dogs.  They are a very confident and proud breed and learn tricks and obedience very easily.
Poodle
The Poodle comes in three different sizes, toy (10" and under, 6-9 1bs.), miniature (10-15", 15-17 1bs.), and standard (over 15", 45-70 1bs.).  The Poodle has been cited as being the 2nd most intelligent breed of dog.  Their exceptional intelligence, paired with the fact that they are generally very eager to please, empowers them to excel in obedience training.  They learn quickly and will delight in showing off their new tricks.  Poodles are generally very easy to housebreak.  They are loyal and devoted companions, extremely people-oriented, and crave lots of love and attention.  They are typically calm, good natured, with a sweet temperament, and the ability to bond with all members of their human family.  The standard poodle, in particular, does extremely well in families with young children, while the toy and miniatures fair better with older children.  Poodles do not do well in households where they will be left alone for long periods of time, left outside, or bound to one room of the house.  Poodles have an extremely low-shedding, dense coat which is either curly or corded and should be groomed every 6 – 8 weeks to prevent mats and tangles.  If you should so decide, their coat can also be kept short for low-maintenance.  Poodles come in a variety of colors such as silver, cream, gray, blue, black, white, apricot, red, caf-au-lait, brown, and parti-colored.  The Poodle is oftentimes referred to as the hypo-allergenic dog.  But, while there truly is no such thing as a completely hypo-allergenic dog, they are unquestionably more compatible with allergic persons than other breeds.   Being classified as highly energetic, the poodle, like most dogs, will appreciate daily exercise, such as a walk, play session, or a run at the dog park.
Click here to see complete listing of all Poodle mixes.
SUBMIT A PHOTO OF YOUR GOLDENDOODLE DOG! Simply use the comments and image uploader section, below.
Photo Submitted by: Mattie 5/1/13
Here is my 3 month old Goldendoodle. They don't get any cuter than this!
Photo Submitted by: Karen 9/13/13
He is a 3 yr old apriot goldendoodle His name is Beethoven.








Photo Submitted: 11/14/13
Here's Amos! The best Goldendoodle pup we could ever ask for. He loves everybody, and with a face and personality like his he gets all that love back x 100!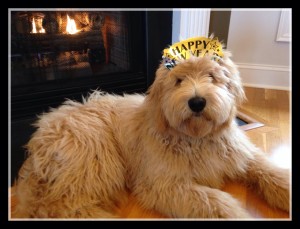 Photo Submitted by: Sam 1/11/14
A 6 month old, 50lb male F1 goldendoodle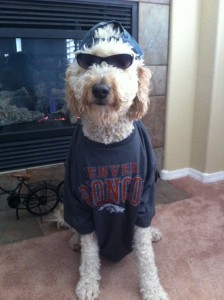 Photo Submitted by: Kathy 1/29/15
go broncos!!














Photo Submitted by: Susan 6/5/15
My mini goldendoodle Biscuit at 8 weeks old, day one of being home! He's 1+ now, and a sweeter dog there could not be! He loves running, and sleeping, and whatever you want to do. He knows 15 tricks and counting!









Photo Submitted by: Jackie 8/18/15
Thanks for sharing. Here's our new Goldendoodle, Benny.










Photo Submitted by: Barbara 6/5/16
Cooper mini goldendoodle 8 weeks








Photo Submitted by: Ruth 12/6/16
Here's our mini goldendoodle 5lb 10weeks RUSTY. WE LOVE YOU RUSTY















Photo Submitted by: Sherry 10/16/17
Marlon our Mini-golden doodle. 13 weeks and 12 lbs even.









SUBMIT A PHOTO OF YOUR CAVAPOO DOG! Simply use the comments and image uploader section, below.
IMPORTANT: You MUST state the type of Poodle mix in the Post Content section below! (For Example, Bich-Poo, Cavapoo, Maltipoo, etc.) Thank you for sharing! (Please allow up to 24 hours for your photo to appear.)