Top Questions to Ask a Dog Breeder Before Buying Poodle Mixes
So you've decided you want a hybrid dog, and better yet, you've decided that one of the Poodle mixes are your best option.  You've already read about Poodle mixes and their great qualities such as the fact that they are low to no-shedding, are considered a hypoallergenic dog (or at least tollerated by most allergy sufferers), are extremely intelligent, and have beauty and grace as you've never seen before.  You've made an excellent choice.  Now you just need some information on how to select a breeder that can provide you with a healthy, well-balanced Poodle mix puppy.  The below guide will assist you in your journey to determining whether the Poodle mix breeder of your choice is qualified in their field.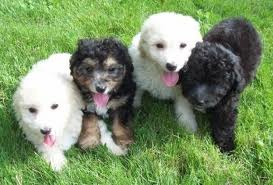 Ask how long they have been breeding, and why they breed Poodle mixes.  You want to be sure that they are breeding to better the breeding lines and the breed as a whole and that there are no inappropriate underlying reasons.
Ask about common health issues in both parent breeds.  Certain breeds are more susceptible to particular diseases or health issues, and all dogs have them, so be sure they are honest in filling you in on what to watch for.
Ask where they keep their puppy litters.  You will want to be sure that they keep them in the home or in a nursery that is clean, warm and free of parasites.  Ask what method has been used to socialize the puppy.  You will also want to be sure that they are socializing with them daily as this is extremely important as to how their temperament will develop.
Ask for references from owners of puppies bought from prior litters
Ask to see the breeder's sales contract and health warranties.  Ask how long the health warranty is good for and make sure you are provided copies at the time of purchase.
Ask to see documentation on both of the parent's hip and eye clearances.  If this has not been done you should not choose this breeder.
Ask about shots and worming, and what the puppy has already had done.  At the point of purchase the puppy should have already had its first set of shots.  Be sure you are clear on what other shots will be needed after you purchase your puppy.  Be sure the breeder provides you with clear documentation on this.
Ask to meet the parents of the puppy.  The fathers do not always belong to the breeders; however, at the very least the mother should be on the premises and be available for you to see.
Ask them about the temperaments of each of the puppies so that you can make a match to your needs and lifestyle.  If they are properly interacting with their puppies they should know the character of each puppy in the litter.  Also, be sure to listen to their suggestions of which puppy they think is appropriate for you.  If they are a good breeder they should be able to make a good match between puppy and owner.
Ask at what age they will release the puppy to you.  A puppy needs appropriate time to be with its mother and should not be taken away prior to 8 weeks.
Ask what the price of their puppies are and compare that to the price other breeders are asking.  If there is a huge difference you should ask why.  Always know what you are paying for.
Ask if you can have your own veterinarian examine your new Poodle mix puppy prior to making a commitment to keep it.  This would need to be done a few days after purchase and a good breeder will not mind adhering to your request.