Cavapoo (also known as Cavadoodle or Cavoodle)
Mix: ½ Cavalier King Charles Spaniel & ½ Poodle
Size: Up to 20 pounds, 11 – 15 inches tall
Coat: Coat is soft and can be wavy, or curly.  Coat colors can range from solid black, gold, white, chestnut and white, or tri-colour (black, white and tan).
*Many people with allergies prefer Poodle mixes as their fur is more
hypoallergenic than most dogs (a characteristic inherited from the
Poodle)
Cavapoo (also known as Cavadoodle or Cavoodle)
A Cavapoo (also known as Cavadoodle or Cavoodle) is a mix between a Cavalier King Charles Spaniel and, most often, the miniature sized Poodle.  They are quite small weighing anywhere up to 20 pounds, and 12 – 14 inches tall.  They are very intelligent and have the desire to please which makes them very easy to train.  They are friendly with everyone, have a very laid-back personality, and are very gentle in nature.  With their small compact bodies, round faces and long, floppy ears they appear puppy-like even into their adult years.  They are well suited for homes with little or no yard as they do not possess an overabundance of energy where they will need a ton of exercise or space to run.  However, as with all dogs, they still need the benefit of some exercise such as a short walk or play session to keep them healthy and fit.  This dog is suited for just about anyone  and will do well with either a single person or a family.  Possessing a very laid-back personality and gentle nature makes them excellent with children.  They love and crave affection and sometimes bond more strongly with one person in the family over the others.  They have a lifespan of approximately 12 – 16 years.
When considering the nature of the Cavapoo you must consider the characteristics of both the Cavalier King Charles Spaniel and the Poodle separately in order to determine the characteristics the Cavapoo may exhibit.
Cavalier King Charles Spaniel
The Cavalier King Charles Spaniel is bred as a companion dog and as such are extremely gentle which makes them a great dog to be around children.  Aggressiveness is not a trait that runs in this breed and they tend to view everyone they meet as a friend.  With this in mind, they also do not make good watch dogs.  They get along very well with other dogs and are not timid of dogs well beyond their own size.  They have a wonderful temperament and can be described as being happy, affectionate, playful, and curious.  They are very eager to please and not considered stubborn which makes them an easy breed to train.  They are cuddly and lovable and are quite content to cuddle up next to their owner or snuggle on a lap.  They are chasers of moving objects so it is to an owners advantage to have a fenced yard or have their Cavalier leashed.
Poodle
The Poodle comes in three different sizes, toy (10" and under, 6-9 1bs.), miniature (10-15", 15-17 1bs.), and standard (over 15", 45-70 1bs.).  The Poodle has been cited as being the 2nd most intelligent breed of dog.  Their exceptional intelligence, paired with the fact that they are generally very eager to please, empowers them to excel in obedience training.  They learn quickly and will delight in showing off their new tricks.  Poodles are generally very easy to housebreak.  They are loyal and devoted companions, extremely people-oriented, and crave lots of love and attention.  They are typically calm, good natured, with a sweet temperament, and the ability to bond with all members of their human family.  The standard poodle, in particular, does extremely well in families with young children, while the toy and miniatures fair better with older children.  Poodles do not do well in households where they will be left alone for long periods of time, left outside, or bound to one room of the house.  Poodles have an extremely low-shedding, dense coat which is either curly or corded and should be groomed every 6 – 8 weeks to prevent mats and tangles.  If you should so decide, their coat can also be kept short for low-maintenance.  Poodles come in a variety of colors such as silver, cream, gray, blue, black, white, apricot, red, caf-au-lait, brown, and parti-colored.  The Poodle is oftentimes referred to as the hypo-allergenic dog.  But, while there truly is no such thing as a completely hypo-allergenic dog, they are unquestionably more compatible with allergic persons than other breeds.   Being classified as highly energetic, the poodle, like most dogs, will appreciate daily exercise, such as a walk, play session, or a run at the dog park.
Click here to see complete listing of all Poodle mixes.
Photo submitted by: Fudge 2/25/12
This photo was taken on his first long walk, two weeks after his second injection.  He was approximately 14 weeks old.  At this stage he had been walking through the slushy snow for quite some time, and was ready for home!










Photo submitted 1/18/13
TOBY-
He is a really good natured – smart- sweet dog.
I have found him to be a bit stubbon.
Trainable- smart- but resistant to the command at times.
He knows what he is supposed to do and chooses not to at times.
Could not resist this sweet puppy.
Had to have him!






















Photo submitted by: Lyndy 1/24/13
This is Xander our 10 week old Cavoodle.
He has a beautiful gentle nature .
He is also a quick learner.










Photo submitted by: Graham 3/16/13
Ollie at 14 weeks









Photo submitted by: Kim 3/22/13
This is Billie …she's 4 months old









Photo submitted by: Hannah 3/25/13
This is Wispa! She's a nine week old, reddish coloured Cavapoo. We brought her home two days ago and she's already house trained, knows her name, knows sit and is perfectly settled in her new home.








Photo submitted by: Suzanne 4/10/13
Braxton is 11 months old and the joy of our family!








Photo submitted by: Lisa 7/29/13
Lennon is my son and his girlfriends new puppy, he is 9 weeks old and cute as a button!














Photo submitted by: Jo 8/24/13
This is our 12 week old Lewy! We love him more than the world- very cute breed – gorgeous boy!










Photo submitted by: Emma 9/8/13
This is Benson, he's one now. Love him to pieces, very affectionate, and obedient most of the time. Very quick to learn, but also very strong willed. I have found him to jump up at lot, and gets cross if you try and take something off him, but leave it command and treat, he will drop immediately, would definitely recommend this than tug of war, as he has got aggressive if I tried this. Very energetic, definitively needs exercise every day, which has been good for me too. Would agree with chewing and digging, they don't like to be left for long either, but sleeps in crate at night v well (much better than without the crate). Very loyal and intelligent dogs though. Would definitely recommend he's great x









Photo Submitted by: Sam 9/13/13
Our beautiful girl Amber is 5 1/2 months. She is very respectful of our Westie Millie who is 14 years old. She can be very good and will come, sit, stay and leave. She can also be devilish and ignore me completely. Very very affectionate. Loves cuddles and follows me everywhere. She's gorgeous!









Photo Submitted by: Claire 10/13/13
This is Charlie, a ruby Cavapoo, he is 12 weeks old, smart as a whip, we have had him 1 week and we have taught him, sit, & come and pee and poop outside….he is also crate trained…..he is mellow and sweet and is very happy to meet kids and other dogs, he is hands down the BEST dog we have ever had!!!












Photo Submitted by: Mary 10/14/13
We just picked up our Cavapoo's on Friday, they are so sweet and so different. One so cavalier and one so poodle. Different parents. They love everybody! We are looking forward to a great future with our new pups.









Photo Submitted by: Steph 10/30/13
Charlie is 5 months old, and learning that as he grows, he can reach new heights 😉 He's adorable, even when playing keep-away!













Photo Submitted by: Christine 11/2/13
This is our gorgeous little girl Minnie. She is just 11 weeks old. She is a little naughty but she is learning! We have only had her 1 week now. She has brought us so much joy!















Photo Submitted by: Daniel 11/12/13
JJ is one year old. JJ loves to swim, dig holes on the beach, paddle board, and lead other dogs in the dog run. JJ was a breeze to train, loves people and all animals alike, loves long drives in the car, and can run hours on end when set free in a controlled outdoor space. Best dog ever!













Photo Submitted: 11/14/13
This is Sadie and I'm told she's a Cavapoo..She's 8 weeks old and has taken over our hearts. There isnt a shoe in the house she aint beat up.














Photo Submitted: 11/17/13
This is Milo…. He's an amazing puppy…! He was born on Sept.07, 2013… We've only had him 1 day and he already rules our household… He's sooooo smart…! We are lucky to have him in our lives….. Yiippppeeee!!!
Thank you so much Lauren from Westport Puppies in Norwalk Ct. You're are the best. Nea and Elaine











Photo Submitted by: Nikki 12/18/13
This is Bailey, our 12 week old Cavapoo, been with us a week and is just delightful, thrilled to bits with him.
Photo Submitted: 12/26/13
Freddie bear the cavalier King Charles spaniel miniature poodle cross















Photo Submitted by: Cynthia 1/18/14
Malachi -23 pounc of perfection. He loves catching balls in mid-air, and brings it back too. Has a great, silly sense of humor. Was trained extremely easily. Very obedient and eager to please. Hikes up mountains with me and my husband but avoids water. He is very affectionate and skeps at our feet in bed, never demanding. Would love to play ball or snuggle even more than to eat. The best dog ever!!










Photo Submitted by: John 2/25/14
Here is Tilly the Cavapoo at 10 weeks old









Photo Submitted by: John 2/25/14
Ellie our Cavapoo at 4 months old














Photo Submitted by: John 2/25/14
Mia at 4 months









Photo Submitted by: John 2/25/14
Here's a pic of all 3 of our Cavapoo pups. Taken at 3 months old










Photo Submitted by: Milla 3/1/14
This is Barney, our Cavapoo (minature poodle not toy poodle) He's 11 weeks old and we've had him for under a week! Barney's a smart, loyal, friendly cute ball of fluff. He never barks during the day, he's already learning tricks, he loves the dishwasher and feet and he's getting good at using puppy training pads. I'm so grateful to have him and love him very very much!








photo Submitted by: Becca 3/6/14
I have a rescue dog, Max, who I believe is a cavapoo! He is the right size for one, and looks and acts just like them!











Photo Submitted by: Sharon 3/31/14
This is Somerset – our perfect puppy! He's 13 weeks old here, and just gorgeous. We could not have picked a more perfect dog. He's easy to train (loves to please, & loves treats!). Happy to be on his own for short periods, but really does love people. Follows us about everywhere!














Photo Submitted by: Jenn 5/3/14
This is Romeo my 3 month old cavapoo he's very affectionate we just love him

















Photo Submitted: 6/14/14
Brandi is the most adorable little girl. She is my little snugglebug. Loves everyone – has just passed her evaluation to be a therapy dog. So proud of her. She is only 19 months old. Totally recommend this breed to anyone looking for a loving pet.










Photo Submitted by: Ilsa 6/14/14
This is King Charles and he is the sweetest little pup-he is smart, playful and a protector.
Charlie is the perfect puppy we love our Cavapoo!












Photo Submitted by: Lynette 6/26/14
This is poppy, She is a year old. Beautiful temperament, very clever little dog! Knows, speak, beg, stand up, paw, high five, sit, spin, down, bang (acts dead) and roll over. Loves to meet all children, people and dogs! Couldnt see myself with her.












Photo Submitted by: Julie 7/15/14
My beautiful cavapoo Amber















Photo Submitted by: Carolyn 7/15/14
This is Jamie. He is 8 weeks old and we have had him 3 days. Very smart and loves to be cuddled. Crate trained and a joy.















Photo Submitted by: Allan 8/9/14
Here is my Cavapoo Amy. She is 3 years old















Photo Submitted by: Sarah 8/15/14
This is my love, Wickett. She will be 10 on 9/01/14 and I cannot say enough about the joy she has given me. Cavapoos are hands down the best dogs eva!

Photo Submitted by: Whitney 8/20/14
My baby girl, Bambi!
She is 4 years old and she lights up my world. She is a traveler, a hiker, and a professional snuggler! =)










Photo Submitted by: Jayne 9/24/14
my cavapoo gus at 13 weeks










Photo Submitted by: Claudia 9/28/14
This is Duncan my cavoodle he is 12 weeks old and I have a happy home with him he is great with kids and cats.










Photo Submitted by: Julie 9/30/14
Our cavapoo Hank at 1 year.

















Photo Submitted by: Yvonne 10/6/14
This is Bailey she is 12 weeks old and would not be without her I love her to bits
And she loves everyone














Photo Submitted by: Steve 10/8/14
This is Bertie, our 8-week-old Cavapoo. We've had him for 4 days, and he's settling in wonderfully. Feels a part of the family already, and we all adore him.














Photo Submitted by: Tom 10/16/14
This is Molly… 12 weeks old, a little shy, but lots of fun and the cutest face.















Photo Submitted by: Jan 11/1/14
This is Ruby! Our 8 week old cavapoo. We have had her a few days now and love her to bits!
















Photo Submitted by: Anne 11/22/14
This is Clarke, such a handsome fellow












Photo Submitted by: Peg 12/23/14
This is Patches, he is 10 weeks old. We got him one and a half weeks ago. He cries all night and we are not getting any sleep. We have turned a radio on for him with no help. We are having some problems with him using the outdoors to go potty. He soils in his bed every night and I have to wash his cage and blanket every day. Last night he was sleeping next to me on the sofa and peed in his sleep. He is a lover but also very active, constantly running, chewing.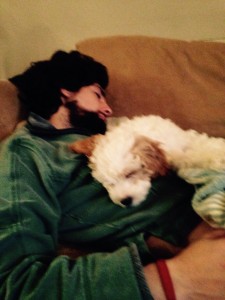 Photo Submitted by: Emily 12/26/14
My beautiful cavapoo, he's 10 weeks old and has a huge personality already. He plays then naps, plays and naps, couldn't of got a better, family, fun, cheeky and loyal dog, we've had him 2 days and couldnt imagine him not being here!













Photo Submitted by: Dawn 12/31/14
This is Roscoe, he's 4 now and the lovebug in our family. While he's very loving he can also be selfish with his toys and stubborn when he wants to be.













Photo Submitted by: Claudia 1/3/15
Mila at 2 months old.
Greeting from Chile

Photo Submitted by: Dagmar 1/7/15
We got our Cavapoo Trixie from our local animal shelter about a year ago; the vet estimated she was about a year old at the time. True to the breed she loves to be with people, eager to please, easily trained, and a true snuggle bug. Hard to believe someone abandoned her! She does not shed, needs a trip to the groomer every couple of months and fits in the sink for a quick bath between visits. Yup, a Cavapoo is an awesome choice you will never regret!











Photo Submitted by: Zac 2/4/15
Our Cavapoo Indy!















Photo Submitted by: Terrie 2/13/15
This is my cavapoo Phin. He is red and a perfect dog for me. So tender hearted!











Photo Submitted by: The Glaudinis 2/18/15
This is our little girl Sami Davis
We have had her one week and she is "to be loved"
Very smart…already plays fetch…and has captured the hearts of all she has met.














Photo Submitted by: Tunefamily 2/25/15
Billy my handsome , good natured Cavapoo 14 months old















Photo Submitted by: Janet 4/10/15
This is Monty our 5 month old cute as a button cavapoo..
















Photo Submitted by: lauraaky 5/8/15
My cheeky 6 month old Maisie

















Photo Submitted by: Cindy 5/10/15
This is Luna she is 5 months old cavapoo! She is very smart and loving. We all love her even my other Dog BayLee he is 6 yrs old and they play together all the time. This wonderful natured dog is so amazing if you ever want calm, loving dog a cavapoo is the way to go!














Photo Submitted by: Amanda 5/16/15
This is Barney he is now 5 and a half months he is an adorable little character we love the looks of innocence he gives us

















Photo Submitted by: Travis 5/17/15
Blossom is 8 weeks old. She's a real sweetie!

















Photo Submitted by: Yohana 5/18/15
louis the cavoodle. almost 1 year. very friendly and love to walk















Photo Submitted by: JoJo 5/23/15
Max! The cutest puppy in the world!!!!!!🐶

















Photo Submitted by: Hanna 5/27/15
Benny ! 45 pounds of pure cavapoo love!

















Photo Submitted by: Rick 5/29/15
Edgar Allen Poe and Peanut. Mom was a pure tri color Cavalier, while the dad was a tan Miniature Poodle, brothers born 1/25/15. They got the mini size but the coat of a Cavalier!











Photo Submitted by: Sarah 6/2/15
This is Archie…he's a cavapoo, he's 5 months old today and so adorable!















Photo Submitted by: Kathy 6/10/15
Chewy chew baca the fourth is a cavapoo















Photo Submitted by: Alicia 6/13/15
His name is Curro. Isn´t he cute?















Photo Submitted by: Ian 6/14/15
Charlie our Cavapoo in his car seat harness, he is 13 weeks and settled very well, sleep all night in his crate and loves a good chew and a dig. He is a little diamond!













Photo Submitted by: Debbie 6/18/15
Marley is my beautiful cavapoo, has straight and also a wavy coat, took on his mothers look as he looks more on the cavalier side, he is medium size, love cuddles and being with people.. And like play at being naughty..















Photo Submitted by: Liz 6/20/15
Max. Our 14 week old Cavapoo.
Playful, affectionate and good looking!!











Photo Submitted by: Larissa 6/20/15
I have a cavapoo , sweet and lovely but does tend to nip you when you play with him. He loves to cuddle,but,can be a naughty boy 😂 he is 11months old 💕














Photo Submitted by: Avy 6/29/15
This is my little Dunkin (just "donut :when's being a brat).
18 months.
He's really friend and is adored by everyone (sometimes more than their own pets). He actually motivated quite a few people to get a dog because he charmed them so much. He's not into dog parks, prefers hiking and swimming in the lake.
Can't go wrong with a cavapoo if you put in the time to love and train this breed.
BEST PART… he lets me dress him in clothing everyday. I dress him everyday from fall to spring and he just wears it!! we're talking boots, shoes, pants, jackets, shirts, hats, scarves, and most costumes!!!







Photo Submitted by: Michele 6/27/15
Gracie ~ wonderful part of the family loved by 4 brothers

sweet, loving, playful, loyal, watchdog ~ simply the best

Photo Submitted by: Crystal 7/1/15
Rocket the Cavapoo














Photo Submitted by: Becky 7/10/15
Here is our one year old Nugget! I have never had a dog who is so loving. He is such a cuddle bug! Love him so much!











Photo Submitted by: Mike & Mary Smith 7/11/15
Bailey 10 weeks old Pfafftown NC














Photo Submitted by: Victoria 7/13/15
Frankie is a toy poodle/cavalier mix. He is cheeky and adorable and refuses to nap if people are around!














Photo Submitted by: Lanay 7/20/15
Meet Brier! She is a cavapoo with the sweetest personality you could possibly imagine. She is 4 months old and I have not given her a haircut, except trimming around the eyes. Her coat is too soft and fluffy to pet with yet.












Photo Submitted by: Tina 7/23/15
Cavapoo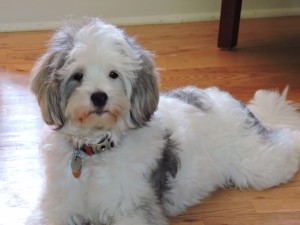 Photo Submitted by: DDR 7/23/15
My little boy Maxwell… sweet, handsome and calm. I rescue him back in December 2014. I never thought I could fall in love with a dog, but now I can't see my world without him. Just wanted to share. I shot this photo yesterday.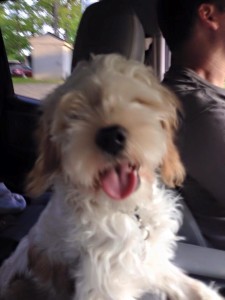 Photo Submitted by: Janet 7/21/15
This is Asa. Adopted him from Neel's Complete K-9. WONDERFUL pup! He's going on 9 months old. Loves to play ball, knows what "bye bye" and "walk" means. Can sit and stay, give a high five. Expert Cuddler and clown.













Photo Submitted by: Olivia 7/27/15
This is Charlie the Cavapoo (Cavoodle) when he was 10 weeks old a week after we got him. He is now 9 months old and completely insane. He has changed our lives for the better. He is cheeky, crazy, and completely loveable. He knows exactly what he should be doing but revels in doing the opposite and then looking at you as if to say "who, me?"
He is the most friendly and loving dog you can find, he wants to meet and say hi to everyone he sees and gets upset when they don't want to say hi or play with him. We have a list of many people who would happily take him over their own dogs and because of his friendly and playful nature. He loves to chew and has destroyed many of his toys however we lucked out and he has not chewed a single piece of furniture!
When you give him a good scratch first thing in the morning he talks to you and will tap you with his paws if you stop. If he wants you to play he will follow you around nudging his toy into your leg until you turn around to play with him, at which point he will run away wagging his tail expecting you to chase him.
Definitely the best breed of dog, he is such a crazy loveable dog who i could not live without






Photo Submitted by: Janice 7/31/15
This is Kiki our adorable 4 month Cavapoo! She is a red/brown color. Very playful and loves to run.













Photo Submitted by: Jane 8/1/15
This us Bonnie our very special cavapoo mummy with her 7 beautiful puppies I am keeping one….but which one will I choose?????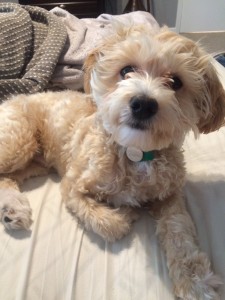 Photo Submitted by: Andrea 8/1/15
Gary Pinkel Bien 7 months old. He is the light of our lives! Loves to snuggle and play!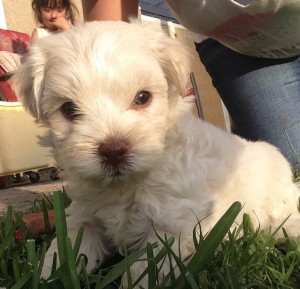 Photo Submitted by: Popcorn 8/2/15
Hello!!














Photo Submitted by: Jenny T. 8/4/15
Daisy the Cavapoo….so smart and sweet, loves nothing more than playing fetch with her ball. Also loves to swim and take baths. She is my joy!!!!!!













Photo Submitted by: Sheeka C. 8/6/15
This is Bella, our 5 month old cavapoo! She loves to play with my 7 and 11 year old boys and chase bugs in the yard (when she should be going potty). We absolutely love her!













Photo Submitted by: Louise 8/8/15
This is Teddy he's a cavalier x toy poodle. He's 11 weeks and we can't get enough of him!!!!!
















Photo Submitted by: Katie 8/12/15
This is Mickey, my six month old cavapoo. Mickey was shy at first but became a good loyal, obedient puppy quickly. Learned sit, come, lay down, heel, no and fetch within a week. Outside the occasional bathroom accidents which are getting less, it's a beautiful snuggle bug dog.











Photo Submitted by: Randi 8/13/15
Here is a photo of our love of our Cavapoo Spanky when he was a few months old. We got him when he was three months old 2 years ago and brings joy to our lives every day. He is extremely smart and is a clown and we call him the mad licker!!














Photo Submitted by: Karen 8/24/15
This is Louis the cavapoo, 11 weeks old, absolutely gorgeous and so intelligent















Photo Submitted by: David and Donna 8/26/15
Mr. Watson is a Cavapoo who is 13 weeks….we love him to death.
He is so gentle, engaging, loving….and those expressive eyes.
He has a older sister, wirehair fox terrier……
They get along fabulously….such buddies.












Photo Submitted by: Alex 9/2/15
Our 18 month cavapoo Olly !!!!















Photo Submitted by: Shelane French 9/10/15
Here is Cookie Dough at 10 weeks. She is smart, lovable, and very quiet. She was house trained in just over a week.











Photo Submitted by: Anne 9/12/15
Here is my Cavapoo Charlie. He is 11-months old. I would recommend this breed to anyone who wants a dog that is smart, easy to train and loves to introduce himself to everyone he meets (dog or people). ❤️











Photo Submitted by: Alice 9/24/15
Here is my 4 month old Cavapoo Ernie. He is my first dog and I am so glad I chose a Cavapoo.













Photo Submitted by: Cynthia 9/25/15
This is our Cavoodle puppy at 8 weeks old. Her name is Peppa.













Photo Submitted by: Sarah 10/6/15
This is Oscar, our beautiful cavapoo puppy! He is so loving and funny!!!















 SUBMIT A PHOTO OF YOUR CAVAPOO DOG! Simply use the comments and image uploader section, below.
IMPORTANT: You MUST state the type of Poodle mix in the Post Content section below! (For Example, Bich-Poo, Cavapoo, Maltipoo, etc.) Thank you for sharing! (Please allow up to 24 hours for your photo to appear.)